High-temperature polymer laser sintering solution for serial production of demanding composite components.
EOS P 810 & HT-23: The perfect solution for demanding high-performance applications.
With a building volume of 700 x 380 x 380 mm, EOS P 810 enables a fast and cost efficient production of plastic parts directly from CAD data. Parts made out of HT-23 material offer high strength at low weight and withstand high temperatures.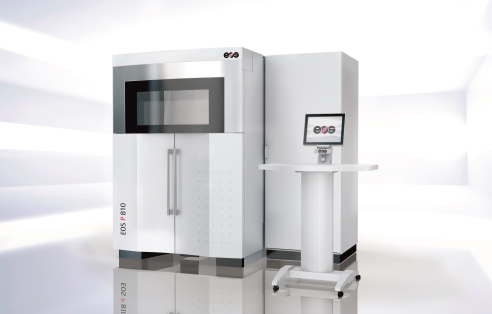 Efficiency
Thanks to improved recoating speed, fast digital scanners and high-power lasers the building time is significantly reduced and thus productivity increased.
Quality
HT-23 a Polyetherketoneketone (PEKK) material with encapsulated carbon fiber reinforcement is inherently flame retardant, UV resistant and meets regulations of the aerospace (FAR 25.853) and mobility industry (EN 45545).
Sustainability
With a low refresh rate (60% recyclable, little excess powder) HT-23 is contributing to substantially reduce cost-per-part.
EOSINT P 810

Effective building volume

700 mm x 380 mm x 380 mm (27.6 x 15 x 15 in)

Laser type

CO2, 2 x 70 W

Building rate

up to 10 mm/h (0.4 in/h); up to 2,7l/h

Layer thickness: ALM HT-23

120 μm (Other thicknesses technically possible)

Precision optics

F-theta lenses, high-speed scanners

Scan speed during building

up to 2 x 6 m/s (23 ft./sec)

Power supply

32 A / 400 V

Power consumption

typical 3.9 kW; maximum 10 kW

Dimensions (W x D x H)

System

2,500 mm x 1,300 mm x 2,190 mm

Recommended installation space

min. 4.8 m x 4.8 m x 3.0 m

Weight

approx. 2.300 kg

Data preparation

Software

PSW 3.8 with EOSAME feature, EOSTATE System with Online Laser Power Control, EOSPRINT 2 with SmartScaling feature, EOSCONNECT

Material

HT-23 from Advanced Laser Materials (ALM)

Optional accessories

IPCM P plus, CoolDown Station, Unpacking and Sieving Station, Blasting Cabinet