EOS P 500 – The automation-ready manufacturing platform for laser sintering of plastic parts on an industrial scale.
High quality components at the lowest cost-per-part. Maximum productivity for processing polymers at operating temperatures of up to 300°C
The innovative manufacturing platform produces components that fulfill highest requirements regarding mechanical and dimensional accuracy and reproducibility. Thanks to clever hardware interfaces and accessories, the uptime of the EOS P 500 increases by up to 75% compared to predecessor systems and competition models.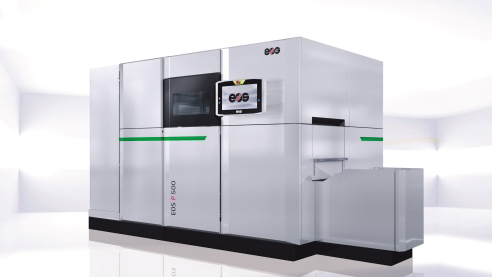 Efficency
The innovative recoater, which applies and densifies material with a speed of up to 0,6 m/sec, as well as two powerful 70 watt lasers reduce cost-per-part by more than 30%.
Flexibility
The system processes polymer materials at operating temperatures of up to 300°C enabeling maximum material flexibility. Open software interfaces and user-friendly tools support application and material development.
Automation
With EOSYSTEM the machine is operated intuitively. EOSPRINT 2 enables software integration in CAD systems, e. g. NX™ from Siemens and via EOSCONNECT the connection to ERP systems. Thus the EOS P 500 supports a digital control of production.
EOSINT P 500

Effective building volume

500 x 330 x 400 mm (19.7 x 13 x 15.7 in)

Laser type

CO2, 2 x 70 W

Building rate

up to 40 mm/h (1.6 in/h); up to 6.6 l/h

Layer thickness (depending on material)

0.06 mm (0.00236 in), 0.10 mm (0.00394 in), 0.12 mm
(0.00472 in), 0.15 mm (0.00591 in), 0.18 mm (0.00709 in)

Precision optics

F-theta lens, surface module, high-speed scanner

Scan speed during building process

up to 2 x 10 m/sec (32.8 ft/sec)

Power supply

400 V/100 A; max. power consumption 80 A

Dimensions (W x D x H)

System

3,400 x 2,100 x 2,100 mm (133.9 x 82.7 x 82.7 in)

Recommended installation space

min. 7.2 x 5.2 x 3 m (284 x 205 x 118 in)

Weight

approx. 7,000 kg (15,432 lb)

Data preparation

Software

EOSYSTEM with EOSAME feature, EOSPRINT 2 with SmartScaling feature and EOS ParameterEditor, EOSCONNECT,
EOSTATE Powderbed

Materials

PA 2200, PEKK*

Optional accessories

Heating station, cooling station, IPCM P plus, unpacking and sieving station, blasting cabinet

* currently under development
System Data Sheet EOSINT P 500 | PDFDownload Download System Data Sheet EOSINT P 500
System Data Sheet EOSINT P 500 | PDF