EOS M 400-4 – The ultra-fast quad-laser system with a large building volume.
Laser sintering system for the industrial production of high-quality metal parts

Designed for industrial applications, the EOS M 400-4 offers a large building volume of 400 x 400 x 400 mm combined with four lasers for up to four times higher productivity.
It shatters boundaries of manufacturing as it meets the most demanding requirements of modern production environments in terms of efficiency, scalability, usability and process monitoring. The modular platform design can easily be integrated into existing production environments and flexible consolidated with future innovation.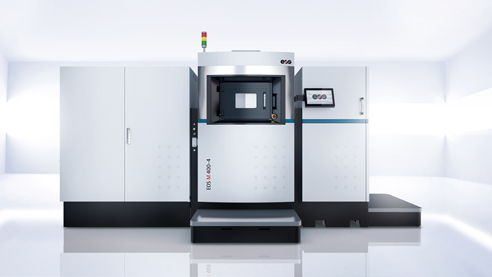 Productivity in a new dimension
While the "sister system" EOS M 400 runs with a single 1000W laser, the EOS M 400-4 multiplies the capacity of the EOS M 290, both ensuring proven DMLS quality. All EOS M 290 processes can be transferred to the EOS m 400-4 while retaining equivalent part properties.
Building volume plus speed
Large building volume of 400 x 400 x 400 mm with four 400 watt lasers operating independently.
The four precise 400 watt fiber lasers operate in a 250 mm x 250 mm square each with an overlap area of 50 mm.
High build rate of 100 cm³/h.
4 Lasers – First-class DMLS quality
Exceptional beam and power stability provides highest DMLS part quality.
All processes running on the EOS M 290 can be transferred to the EOS M 400-4 and deliver equivalent part properties.
New EOS ClearFlow Technology ensures consistent process gas management for ideal build conditions.
Extensive monitoring features ensure high process stability and part quality.
High productivity platform with smart process flow
EOS M 400 supports the production of complex metal parts, yet the system is extremely user-friendly.
Based on customer input, EOS and User Interface Design GmbH (UID) have developed an intuitive graphical user interface.
This can be operated quickly and easily via a task-based layout on the touch screen.
The wizard guidance supports the system operator.
Broad Material Portfolio
Wide range of materials: from light metals to stainless and tool steels to superalloys.
Easy handling through a high degree of automation in workflow and operation.
Intuitive user interface, flexible software tools and a variety of additional equipment fulfill industrial production requirements.
EOSINT M 400

Building volume

400 mm x 400 mm x 400 mm (15.8 x 15.8 x 15.8 in),
including build plate

Laser type

Yb-fibre laser; 4 x 400 W

Precision optics

4 F-theta-lenses; 4 high-speed scanners

Scan speed during build process

up to 7.0 m/s (23 ft./sec)

Focus diameter

approx. 100 μm (0.004 in)

Power supply

3 x 50 A

Power consumption

max. 45 kW / typical 22 kW

Inert gas supply

7,000 hPa; 20 m³/h (102 psi; 706 ft³/h)

Dimensions (W x D x H)

System

4,181 mm x 1,613 mm x 2,355 mm (164.6 x 63.5 x 92.7 in)

Recommended installation space

min. 6.5 m x 6 m x 3.3 m (256 x 236 x 130 in)

Weight

approx. 4,835 kg (10,659 lb)

Data preparation

Software

EOS RP Tools; EOSPRINT; EOS ParameterEditor; EOSTATE Everywhere; EOSTATE PowderBed; Materialise Magics RP and modules

Optional accessories

EOSTATE Laser, IPM M Powder Station L*, IPM M UnpackStation L*
* Currently under development
System Data Sheet EOSINT M 400-4| PDF