The benchmark for the laser sintering of high-quality metal parts – with enhanced quality management features.
The EOS M 290 is the successor to the market-leading EOS M 280 for the tool-free production of high-quality serial components, spare parts and prototypes. This new system is designed to serve the requirements of serial-production customers while providing new optimisation in build quality. The build chamber is identical to the M 280 at 250 mm X 250 mm X 325 mm.
The M 290 offers extensive monitoring functions both for the system itself and the build process, making the system attractive for aerospace and medical applications. The machine can be operated under an inert (nitrogen) atmosphere or under argon, which permits processing of light alloys, stainless and tool-grade steels and superalloys. The EOS ParameterEditor allows customers to modify a range of exposure parameters.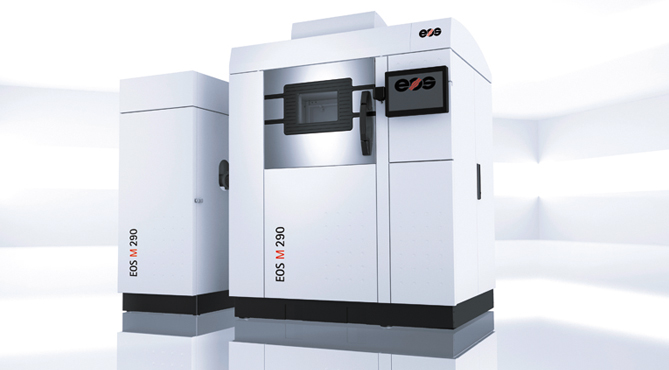 Proven quality
Tool-free manufacturing of high-quality metal serial components, spare parts and functional prototypes
Enhancement of the well-known EOSINT M 280, the leading system on the market
Modular Components
400-watt fibre laser provides an exceptionally high beam quality combined with performance stability
System operates in protective nitrogen as well as argon atmospheres. This allows the system to process a wide range of materials
Enhanced Monitoring
Three new modules EOS PowderBed, EOSTATE Base, EOSTATE LaserMonitoring enable quality management at the highest level
Optimized for the requirements of industrial production
Optimized process gas management
Fewer filter changes and longer lifetime thanks to a recirculating filter system with automated self-cleaning
Intuitive software
System can be operated via touch screen
Graphical user interface for an intuitive, task-based machine operation
Wizard guidance supports the system operator
Extensive Portfolio
Wide range of materials: from light metals to stainless and tool steel to superalloys
Broad range of applications: EOS ParameterSets manufacture parts with standardized Part Property Profiles (PPPs)
The ParameterEditor enables you to modify parameters to meet individual requirements
EOSINT M 290

Building volume (incl. building platform)

250 mm x 250 mm x 325 mm (9.85 in x 9.85 in x 12.8 in)

Laser type

Yb-fibre laser, 400 W

Precision optics

F-theta-lens; high-speed scanner

Scan speed

up to 7.0 m/s (23 ft/s)

Focus diameter

100 μm (0.004 in)

Power supply

32 A

Power consumption

maximum 8.5 kW / typically 3.2 kW

Nitrogen generator

integrated

Compressed air supply

7,000 hPa; 20 m³/h (102 psi; 706 ft³/h)

Dimensions (W x D x H)

System

2,500 mm x 1,300 mm x 2,190 mm (98.4 x 51.2 x 86.2 in)

Recommended installation space

minimum 4.8 m x 3.6 m x 2.9 m (189 in x 142 in x 114 in)

Weight

approx. 1 250 kg ( 2.756 lb)

Data preparation

Software

EOS RP Tools; EOSTATE;EOSPRINT; Materialise Magics RP
approx. 1,250 kg (2,756 lb)

CAD interface

STL (optional: converter for all standard formats)

Network

Ethernet