High-End system for the fast and efficient production of complex metal parts by means laser sintering.
The size and modular design of the EOS M 100 make it ideal as an entry level model for Additive Manufacturing. In terms of process and component quality, it corresponds to the EOS M 290, the leading system on the market for Direct Metal Laser Sintering (DMLS).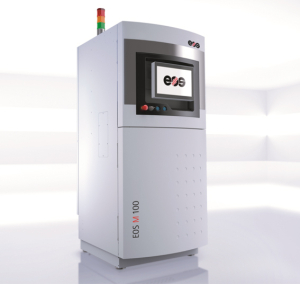 Outstanding Quality & Detail Resolution
The beam quality and stable performance of the 200 watt fibre laser guarantee optimum, constant processing conditions for the production of high-quality components.
The smaller laser spot with excellent detail resolution is ideal for manufacturing highly complex, sophisticated DMLS components.
Cost-efficient production
The building volume and efficient recoating and exposure strategy reduce secondary time, so that parts can be produced quickly and efficiently in small quantities.
Quick & Easy Handling
Thanks to the modular inner design and the powder supply bin, setup and shutdown only take minutes, changing material is straightforward and maintenance is done quickly.
Extensive Portfolio
The peripheral devices are matched to the industrial manufacturing process and ensure minimum powder contact.
EOS M 100

Building volume

Ø 100 mm x 95 mm (Ø 3.9 in x 3.7 in) height, incl. build platform

Laser type

Yb-fibre laser; 200 W

Precision optics

F-theta-lens; high-speed scanner

Scan speed

up to 7.0 m/s (23 ft./sec)

Focus diameter

less than 40 μm

Power supply

200 – 240 V

Power consumption

max. 1.7 kW

Inert gas supply

max. 4,000 hPa, 50 l/min

Dimensions (W x D x H)

System

800 mm x 950 mm x 2,250 mm

Recommended installation space

min. 1,00 m x 3,00 m x 2,5 m

Weight

580 kg

Data preparation

Software

EOSPRINT, EOS RP Tools, CAMbridge or Magics RP and other modules

Materials*

EOS CobaltChrome SP2 (CE-certified, CE 0537), EOS StainlessSteel 316L, EOS Titanium Ti64**

Optional accessories

EOSTATE Laser, powder conveying and sieving module**, wet separator, blasting cabinet

* Further materials on request

** Currently under development