Highly productive, modular plastic laser sintering system for serial production adapted to specific batch sizes.
EOSINT P 396 is the latest modular laser sintering system for the cost-effective industrial manufacture of components from polymer materials – highly efficient, reproducible and reliable. With a build size of 340 x 340 x 600, the EOSINT P 396 covers the medium build volume range on an industrial scale, and delivers tool-free manufacture of serial components, spare parts, functional prototypes and models directly from CAD data.
Newly developed software and hardware components make the EOS P 396 on the whole more productive. This cuts both costs per job and component costs. The new EOSAME feature adjusts the energy input ensuring homogeneous quality and enhanced mechanical properties of manufactured parts over the entire building volume. Improved temperature management reduces non-productive process times and improves process stability.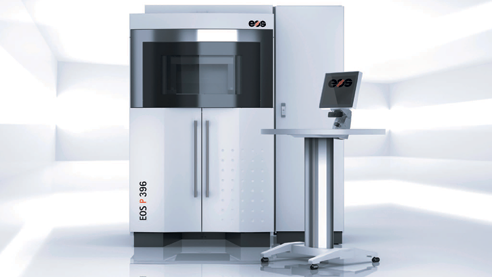 High Productivity
The build progress is on average 15% higher compared to the established EOSINT P 395 (depending on filler loading and part design). This significantly reduces the component costs.
The new and significantly more powerful 70 W laser helps boost the build rate.
The spot pyrometer accurately and continuously measures the temperature of the material layer to be exposed and allows nonproductive time to be cut by 60 %.
With the low-wear, high-speed coater, the material is applied faster with the same consistent precision, thus improving the build progress.
Innovative Software
Alongside proven functions, the latest 3.7 version of the PSW software contains new features that offer the best possible support during both preparation of the build job and process control in the build progress.
User-Friendly
The machine manufactures very complex plastic parts, yet is also designed for easy operation.
Broad Material Portfolio
Like its predecessor, the EOS P 396 can process an extensive portfolio of materials including PA 2200 and PrimePart® PLUS. 12 EOS materials will be available in 2014.
With the corresponding parameter sets, the EOS P 396 produces components that have defined properties, known as Part Property Profiles (PPP), in all spatial directions.
Mechanical Powder Handling
In addition to could the familiar IPCM P powder handling solution, the new IPCM P plus is also now available. This integrates EOS P 396 systems in a closed and traceable powder cycle, for example, and thus ensures dust-free and ergonomic working conditions.
Sustainability
The overall system's energy consumption has been reduced, thus also lowering the operating costs.
EOSINT 396

Effective building volume

340 mm x 340 mm x 600 mm (13.4 x 13.4 x 23.6 in)

Building speed (depending on material)

up to 48 mm/h (1.9 in/h)

Layer thickness (depending on material)

0.06 mm (0.00236 in) 0.10 mm (0.00394 in) 0.12 mm (0.00472 in) 0.15 mm (0.00591 in) 0.18 mm (0.00709 in)

Laser type

CO2, 70 W

Precision optics

F – theta lens

Scan speed during building

up to 6 m/s (19.7 ft/s)

Power supply

32 A

Power consumption

nominal10 kW / typical 2.4 kW

Nitrogen generator

integrated, external connection available

Compressed air supply

min. 10 m³/h; 5,000 hPa (13.1 yd³/h; 72.5 psi)

Dimensions (W x D x H)

System incl. switching cabinet

1,840 mm x 1,175 mm x 2,100 mm (72.4 x 46.3 x 82.7 in)

Control terminal

950 mm x 700 mm x 1,550 mm (37.4 x 27.6 x 61 in)

Powder conveying system

1.480 mm x 1.170 mm x 1.470 mm (58.3 x 46.1 x 57.9 in)

Unpacking station

1.190 mm x 620 mm x 1.500 mm (46.9 x 24.4 x 59.1 in)

Recommended installation space

4.3 m x 3.9 m x 3.0 m (169.3 x 153.5 x 118.1 in)

Weight

approx. 1,060 kg (2,337 lb)

Data preparation

Software

EOS PSW, EOS RP Tools, EOSTATE

CAD interface

STL

Network

Ethernet

Certification

CE, NFPA