Digital Additive Manufacturing for the Industrial Production of High-Quality Metal Parts.
Designed for industrial applications, the EOS M 300 series offers a high degree of flexibility and enables DMLS quality at up to 10x higher productivity.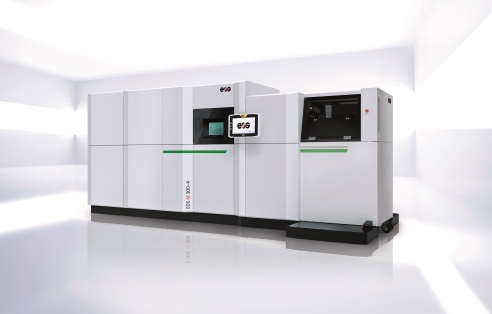 Flexibility
The new exposure module offers the flexibility to choose the number of lasers, their power as well as a fixed or variable focus.
Productivity
Up to four precise fiber lasers operate in a 300 x 300 mm square, each laser covering the entire build area.
Quality
Exceptional beam and power stability provides consistent DMLS part quality across the entire build area including the full-field overlap.
Automation
Flexibility to choose the degree of automation to best suit your needs for an optimized workflow – both as a stand-alone system and integrated in EOS Shared Modules.
EOSINT M 300-4

Building volume

300 mm x 300 mm x 400 mm (11.8 x 11.8 x 15.8 in)

Laser type

Yb-fiber laser; up to 4 units; 400 W

Precision optics

4 F-theta-lenses; 4 high-speed scanners

Scanning speed

up to 7.0 m/s (23 ft/s)

Focus diameter

approx. 100 µm (0.004 in)

Power supply

3x 80 A

Power consumption

max. 36 kW / typical 26 kW

Inert gas supply

7,000 hPa; 15 m3/h (102 psi; 530 ft3/h)

Dimensions (W x D x H)

System with EOS Transfer Station M

5,221 mm x 2,680 mm x 2,340 mm (205.6 in x 105.5 in x 92.1 in)

Recommended installation space

min. 8.8 m x 5.2 m x 3.5 m (346.5 in x 204.7 in x 137.8 in)

Weight

approx. 5,500 kg (12,125 lbs)

Data preparation

Software

EOSPRINT 2, EOS ParameterEditor, EOSTATE Monitoring Suite, EOSCONNECT Core, EOSTATE Everywhere, Materialise Magics RP and modules.