The new, hand-held laser scanner T-SCAN CS sets new standards with exceptional performance, ease-of-use and outstanding value-for-money.
Fast, intuitive and highly precise 3D scanning has now taken on a new dimension in coordinate measurement technology with the hand-held laser scanner T-SCAN CS.
The revolutionary and modular all-in-one concept, includes perfectly matched components (tracking camera, hand-held scanner and touch probe), thereby offering highest flexibility for a large variety of applications.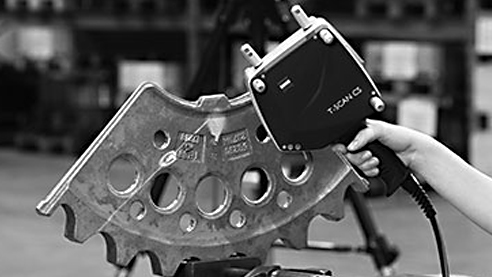 PERFECT HANDLING AND ERGONOMIC DESIGN FOR FATIGUE-FREE, EFFICIENT OPERATION
The design of the T-SCAN CS laser scanner has been ergonomically tailored to the operator´s needs, allowing a fatigue-free and intuitive scanning process. With its extremely light and well-distributed weight, the compact unit is ideally suited for data capturing even in most difficult to reach areas. The innovative technology and futuristic design of the scanner perfectly match each other for maximum ease of operation.
HIGH-END TECHNOLOGY AND PERFORMANCE
Reputed as a longstanding innovator in optical 3D metrology, ZEISS Optotechnik has again set new standards with the T-SCAN CS. The new laser scanner generation is convincing with its user-oriented design and outstanding technical features, e.g., an exceptionally high dynamic range for data acquisition on various object surfaces, and a hitherto unseen data rate. Thus, the user benefits from a unique scanning speed and highly precise measurement results.
Quality Control / Inspection
Comparison to CAD data
Boundary/edge extraction (sheetmetal parts)
Production-related inspection
Mold and Toolmaking
Tool reconstruction
Generation of tool paths for milling
Documentation of actual 3D data at tool release
Design
Scanning of design models for further processing in CAD data and as documentation
Rapid Manufacturing
Acquisition of 3D data for Rapid Prototyping
Reverse Engineering
Scanning of art/historical objects, archaeology Medical technical applications, etc.
HIGHLIGHTS
Innovative all-in-one concept with hand-held laser scanner, optical tracking unit and touchprobe for flexible use in various applications
Complete, fast and efficient 3D digitization of large objects
High measurement accuracy, large measurement volume
Maximum accessibility due to compact scanner design
Adjustable laser intensity, eye safe laser class 2M
High-quality, wear-resistant/low-maintenance components
Easy calibration
No object preparation required
High dynamic range for precise data capturing on different surfaces / objects with varying surface properties
Highly ergonomic, easy and intuitive handling
Optical distance display / acoustic feedback
Macro-controlled program execution
Dynamic referencing for measurement on moving objects
Automatic evaluation with any common inspection software programs
Fantastic price-performance ratio
T-SCAN

Measuring depth

+/- 50 mm

Line width

Up to 125 mm

Mean working distance

150 mm

Line frequency

Up to 160 Hz

Data rate

210,000 points / second

Weight

1100 g

Sensor dimensions
(incl. handle and IR pins)

300 x 170 x 150 mm

 Standard scanner-PC cable length

10 m

Mean point distance

0.075 mm

Points per line

1312

 Laser type

Diode

Wavelength

658 nm

Laser class

2 M

Available software

T-SCANplus, colin 3D
System Data Sheet T-SCAN| PDF