Integrated reporting of the 3D data in ZEISS PiWeb with ZEISS CALIGO and ZEISS CALYPSO.
Enjoy greater flexibility with the new ZEISS T-SCAN 20 3D scanning system: cutting-edge scanner technology and a large measuring volume ensure consistently efficient measuring processes. The complete modular laser scanning solution with perfectly matched components.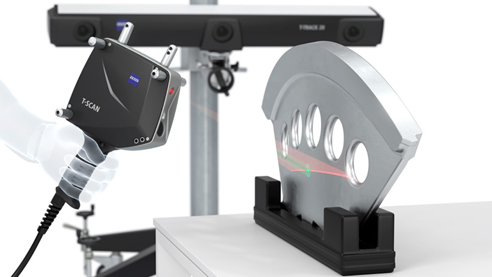 Easy 3D data capture with a hand-held laser scanner
Intuitive, effortless scanning: the user-friendly ergonomics of the hand-held scanner together with the lightweight, compact scanner housing enable precise data capture, including difficult-to-reach areas and on a wide variety of surfaces.
Optical tracking system for maximum efficiency
Completely redesigned camera technology and high-quality ZEISS optics combined with a large measuring volume. Now you can capture 3D data for various component sizes more efficiently and with greater precision.
Hand-held touch probe for fast point measurements
The perfect solution for single-point measurements on areas like (trimmed) edges and standard geometries. Compatible with standard styli.
Wide range of applications for many different industries
Quality assurance and inspection
Design
Rapid manufacturing
Reverse engineering
Tool manufacture and mold making
Capture of complex component dynamics
Archaeology, medical technology, etc.
T-SCAN

Measuring depth

+/- 50 mm

Line width

Up to 125 mm

Mean working distance

150 mm

Line frequency

Up to 330 Hz

Data rate

210,000 points / second

Weight

1100 g

Sensor dimensions
(incl. handle and IR pins)

300 x 170 x 150 mm

Standard scanner-PC cable length

10 m

Mean point distance

0.075 mm

Points per line

1312

Laser type

Diode

Wavelength

658 nm

Laser class

2 M

Available software

ZEISS colin3D
System Data Sheet T-SCAN| PDF