Expand your freedom of movement in 3D scanning with the new ZEISS T-SCAN LV / T-TRACK LV high-end system!
Adapt the new tracking unit with the modular overall system to your individual application.
Combined with the hand-guided T-SCAN LV laser scanner, you can also digitize large objects efficiently and without fatigue. The optionally available T-POINT LV touch probe makes individual point measurements quick and uncomplicated.
With the unique large measuring volume of the innovative T-SCAN LV / T-TRACK LV scanning and tracking combination, you gain completely new perspectives in optical 3D digitalization. Now you can record the 3D data of large-format objects even faster and more easily – the high scanning speed of the hand-guided laser scanner and a tracking volume of up to 35 m³ offer you the greatest possible freedom of movement for an efficient measurement process.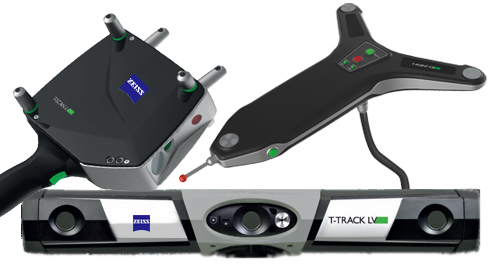 HIGHLIGHTS
Innovative scanning and tracking all-in-one solution with hand-guided laser scanner, optical tracking unit and touch probe
Large measuring volume and high precision
Outstanding measuring speed
Stand-free dynamic autoscale kit (hardware/software) for infield calibration
Measurement on moving objects with dynamic referencing
APPLICATIONS
The large measuring volume of the T-SCAN LV / T-TRACK LV system is ideal for all large-volume measuring objects (e.g. vehicle/automobile production, line construction, agricultural technology, welding construction/metal structures, etc.) and offers the highest performance for a variety of applications:
Quality control/inspection
Design
Rapid manufacturing
Reverse engineering
Mould and die production
Documentation of cultural assets, etc.
T-TRACK LV TECHNICAL DATA

Object-camera stand-off distance

 1.5 – 7.5 m

Measurement volume

 35 m³

Field of view

 up to 3700 mm x 2600 mm

Measuring rate

 up to 4.5 kHz

Weight

 24 kg

Dimensions

 1157 x 230 x 175 mm

PC

 Notebook

LED marker

 up to 63 LEDs
simultaneously detectable

Available software

 T-SCANplus

Possible configurations

 • T-SCAN LV
• T-POINT LV
• T-MOTION CONTROL LV
• Dynamic referencing

T-SCAN LV TECHNICAL DATA

Measurement depth

+ / – 50 mm

Line width

up to 125 mm

Mean working distance

150 mm

Line frequency

up to 160 Hz

Data rate

up to 210,000 points/sec.

Weight

1100 g

Sensor dimensions
(incl. handle and IR pins)

300 x 170 x 150 mm

Scanner-PC standard cable length

10 m

Mean point distance

0.075 mm

Points per line

1312

Laser type

Diode

Wavelength

658 nm

Laser class

2 M

Available software

T-SCANplus