ZEISS COMET – ultra-compact 3D sensor.
The ultra-compact 3D sensor offers great flexibility, a high measuring speed and impressive performance.
With the ZEISS COMET, you're using the latest sensor technology and project-orientated software for simple and reliable 3D data capture.
Map the 3D data of your components quickly and accurately and gain increased scope for a multitude of measuring tasks thanks to the unique flexibility of the system.
The high-performance software platform ZEISS colin3D ensures a consistently efficient and projectoriented procedure during the entire measuring process.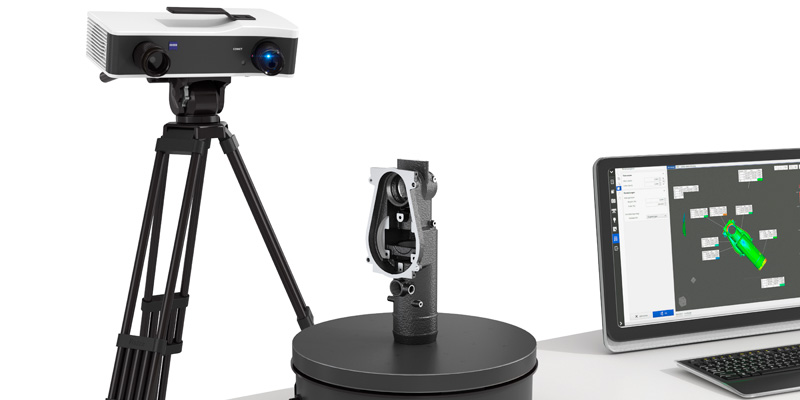 Designed for mobile and flexible use
Do you value flexible application possibilities? The innovative sensor system is extremely compact and light, meaning you can transport it to different application sites without any difficulty. Simple on-site calibration ensures that you can quickly change the measuring field by swapping the lenses. It's fast and easy, and soon the system is ready for the next measuring task.
Achieve optimal measurement results quickly and easily
In just a few simple steps and without any lengthy preparation, the ZEISS COMET sensor is ready for use – enabling you to concentrate on measuring.
This comprehensive solution uses the latest sensor technology and the project-oriented software ZEISS colin3D for data capture and data processing. It affords you a high level of efficiency in operating sequences and generates high-quality measurement data. Thanks to the minimal working distance, it is possible to work in cramped conditions without any difficulty.
High precision for demanding applications
The ZEISS COMET delivers excellent data quality and highly accurate measuring results, making the system the ideal solution for demanding applications in quality inspection. With the colin3D software, you'll generate easy false color comparisons for individual analysis as well as reports for documenting measuring results.
Innovative technology
With the high light intensity and fast camera on the ZEISS COMET sensor, you have the flexibility you need when using it at different sites.
The system delivers precise 3D data and automatically recognizes changes in vibration and exposure, even in difficult ambient conditions – high-end technology for exceptional data quality with maximum ease of use.
Moreover, the enormous light yield and the sensationally high measuring speed ensure reliable data capture on different object surfaces.
A vast range of applications
Quality control / inspection
Mold and model making
Design
Rapid Manufacturing
Reverse Engineering
Archaeology, documentation of art-historical objects, etc.
COMET 5M

Camera resolution

2448 x 2050

Measurement volume in mm³

Measuring field 45: 45 x 38 x 30

Measuring field 75: 74 x 62 x 45

Measuring field 100: 118 x 98 x 60

Measuring field 250: 255 x 211 x 140

Measuring field 500: 481 x 404 x 250

3D point spacing in μm

Measuring field: 45 / 75 / 100 / 250 / 500 / 18 / 30 / 48 / 105 / 196

Shortest measuring time in seconds

~ 1

Working distance in mm

760 for measuring fields 45 / 75 / 100 / 250 / 500

Computers

Available with desktop computer or notebook

Sensor positioning

Tripod or column stand with manual rotary/swivel axis

Automatic object positioning

Rotary tables COMET rotary

Available software

ZEISS colin3D
COMET 8M

Camera resolution

3296 x 2472

Measurement volume in mm³

Measuring field 75: 80 x 60 x 40

Measuring field 150: 140 x 105 x 80

Measuring field 300: 325 x 240 x 200

Measuring field 600: 565 x 425 x 350

3D point spacing in μm

Measuring field: 75 / 150 / 300 / 600 / 24 / 42 / 100 / 172

Shortest measuring time in seconds

2.4

Working distance in mm

760 for measuring fields 75 / 150 / 300 / 600

Computers

Available with desktop computer or notebook

Sensor positioning

Tripod or column stand with manual rotary/swivel axis

Automatic object positioning

Rotary tables COMET rotary

Available software

ZEISS colin3D