Automate your 3D measurements with the T-SCAN laser scanner for maximum efficiency and high data quality!
The automated measuring configuration featuring the unique ZEISS T-SCAN laser scanner allows exceptionally efficient workflows for repeated measuring jobs in quality assurance (e.g. fully integrated measuring solutions for statistical process control in the production cycle). The especially compact laser scanner impresses with effortless reachability – even with difficult-to-reach areas on the component – and delivers precise 3D data in next to no time.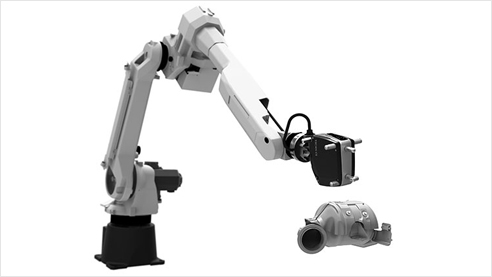 Wide application range for flexible use and high productivity
Featuring an outstanding dynamic range, the scanner enables measurements on diverse surfaces without time-consuming
pretreatment and achieves an unparalleled data rate. In addition, the minimal working distance and the tolerant scan line ensure maximum flexibility, reducing the time needed for programming to a minimum.
Throughout the entire measuring process, you can observe the component areas which have already been measured in real time, and with the online data display you can check the progress of the measurement at any time.
High data quality and precision
The ZEISS T-SCAN laser scanner delivers excellent data quality and highly precise measuring results, making it ideal for demanding applications in quality inspection. Due to the specific triangulation angle of the scanner, the sensor is well-suited for gap and flush measurements.
Innovative high-end technology for greater flexibility and efficiency
High dynamic range: Measure very different component surfaces in one scan path without time-consuming preparation
Real-time display of the measuring run
Compatible with almost every common robot type / manufacturer
Optical sensor and automated solution from a single source, all components perfectly matched
Optimized programming through a tolerant scan line and minimal measuring distance
Customized and complete solution for optimal integration
T-SCAN

Measuring depth

+/- 50 mm

Line width

Up to 125 mm

Mean working distance

150 mm

Line frequency

Up to 330 Hz

Data rate

210,000 points / second

Weight

1100 g

Sensor dimensions
(incl. handle and IR pins)

300 x 170 x 150 mm

Standard scanner-PC cable length

10 m

Mean point distance

0.075 mm

Points per line

1312

Laser type

Diode

Wavelength

658 nm

Laser class

2 M

Available software

ZEISS colin3D
Direct real-time interfaces available with almost
all standard software packages
System Data Sheet T-SCAN Automated| PDF