COMET L3D is particularly well suited for the quality assurance of small and medium-sized plastic or metal parts.
ZEISS proudly presents COMET L3D – a bright new star in the 3D digitizing universe. Featuring innovative LED lighting technology, the extremely compact high-performance 3D sensor adds a new dimension of efficient 3D data acquisition.
The new ultra-portable sensor makes 3D data acquisition even faster, easier and more accurate. It is the ideal cost-effective entry level solution for users who want to take advantage of the extensive functionality of optical metrology without compromising performance, technology or data quality.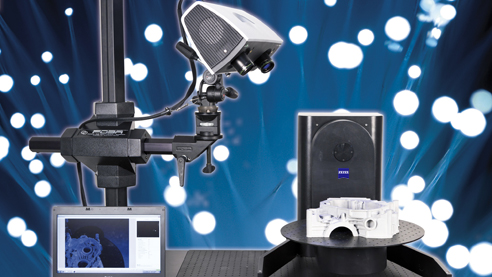 Innovation
COMET L3D uses innovative, maintenance-free and cost-effective LED lighting technology with a long life, so you can benefit from extremely low consumable costs. The sensor housing with the proven single-camera technology from ZEISS and the complete measurement setup are ultra-compact and lightweight for easy portability.
Quality
Comparison of actual data with nominal data (part to CAD)
Mold and Toolmaking
Tool reconstruction
Scan data for generation of milling tool paths
Documentation of actual 3D data at tool release
Design
Scanning of design models for further processing of CAD data, documentation
Rapid Manufacturing
Acquisition of 3D data for Rapid Prototyping
3D Scanning
Reverse Engineering
Scanning of art/historical objects, archaeology
ZEISS COMET L3D

Camera Resolution

3296 x 2472

Measuring field

Measuring volume in mm3

Point to point distance in μm

Stand off in mm

75mm

80x60x40

24

760

150mm

140x105x80

42

760

300mm

325x240x200

100

760

600mm

565x425x350

172

760

Fastest Measuring Time in Seconds

1,7

PC

With Desktop-PC or Notebook available

Sensor Positioning

tripod or sensor stand with manual turn and tilt axis, robot

Automatic Object Positioning

rotation table (COMETrotary, COMETdual rotary) / COMET RotaryStand (FOV < 250)

Available Software

colin3D
System Data Sheet COMET L3D | PDF