The new, hand-held touch probe T-POINT CS for simple and efficient single-point measurement is the ideal portable coordinate measuring device.
The innovative touch probe all-in-one solution ZEISS T-POINT CS offers you a new dimension in coordinate measuring technology: perfectly coordinated components (tracking camera, hand-held scanner and touch probe) act as a modular system to provide optimum flexibility for multiple uses in the broadest range of sectors.
In creating the ZEISS T-POINT CS touch probe, particular emphasis was placed on its ergonomic design. The ultra-light, compact device can be used to simply and effortlessly conduct single-point measurements even in deep, difficult-to-reach object areas or measuring positions.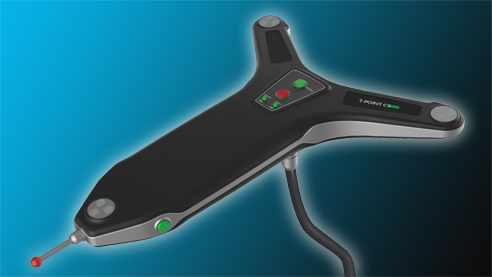 Quality control/inspections
Target/actual comparison for CAD
Dimensioning/boundary measurements (sheet metal parts)
Production-related inspections
Tool and mould-making
Tool construction
Scan data for generating cutting paths
Current status determination after tool release
Inspection of complex welded structures
Setting up gauges and supports
Design
Scanning design models for processing in CAD and documentation
Capturing character lines
Quickly capturing basic areas (adjustment)
Rapid manufacturing
Capturing 3D data for the rapid prototyping procedure
Reverse engineering
Capturing highly complex geometries as reverse engineering data
Highlights
Fast and simple single-point measurement
Perfectly aligned complement for the all-in-one concept with a hand-held laser scanner and optical tracking unit
Use as a portable coordinate measuring device
Use of conventional measuring probes (M4 thread)
Fast, uncomplicated probe replacement
Simple, fast and intuitive calibration
Optimum arrangement of the IR markers, excellent optical accessibility of all markers required for the measurement
Status LEDs and additional function button
Attractive value for money