The new all-in-one solution for simple automated 3D digitalization – with the combined sensor and object control, you can measure compact components quicker and more efficiently than ever before!
The innovative combined sensor and object control is the low-cost solution
for your introduction to automated 3D digitalization. With fully automated measurement processes and unique hardware control, you can measure your compact components extremely quickly and efficiently. This means that you benefit from the integrated measuring arrangement concept in particular in series inspection applications.
Both the sensor and the object positioning are completely integrated in the measuring system and are activated by a single central controller for all axles. With just a few input parameters, you can start your automated measurements via the user-friendly software VISIO7 light. The calibration is also integrated in the fully automated measuring process.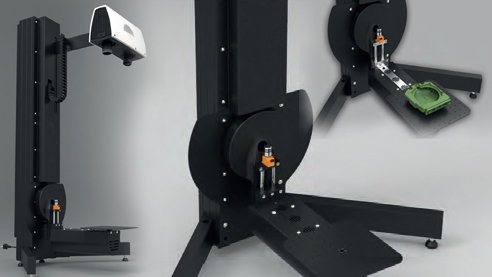 Quality control / inspection
Target/actual comparison of the measurement data for CAD data set
Tool and mould construction
Tool reconstruction
Scan data for generating cutting paths
Actual recording following tool release
Design
Scanning design models for CAD processing documentation Rapid manufacturing
Recording 3D data for rapid prototyping process
Reverse engineering
Recording data for historical art objects, archeology, etc.
COMET®RotaryStand

Measurement volume

45 – 250 mm (depending on sensor)

Max. object size

200 x 200 x 200 mm³

Max. object weight

10 kg

Max. swivel angle

+/- 120°

Input frequency AC input voltage

50 – 60 Hz
100 – 240 V